90 X 90: Ninety euros (€90) off our Red Tour when you purchase it with the American Express® Card at least 90 days before its start date. The tour is described in detail on a dedicated page linked from the following summary. See Best of Sicily's equally detailed Sicily tours page for tour faqs and other information.

The Red Tour: Around Sicily in 9 days (8 nights). Enjoy the timeless history, culture, cuisine and sunshine of Sicily in a tour (very) conveniently planned with just three hotel check-ins and a cross-island itinerary - instead of a lengthy "circuit" around the island with the same place as starting and ending point. Your delightful itinerary crosses Sicily from Palermo to piazza Armerina, Siracusa and Ragusa to Taormina, meaning that your arrival will be at Palermo airport with a departure from Catania. In addition to Sicily's "traditional" sights, you'll discover the splendid, Baroque southeastern cities of Ragusa and Modica. Specialised local guides in Palermo, Agrigento and Siracusa. A dozen departures from March through October are guaranteed with as few as two participants. Maximum group size is just 16. From €1749.00, discounted to €1659.00 with this offer. Read more...

Why choose a Best of Sicily Tour?
• Small group size, usually fewer than 16 participants per tour – never more than 24.
• Convenient itineraries with just two hotel check-ins during a one-week tour.
• Tours scheduled almost every week of the year, with more start-dates than any other company.
• Good prices because there's no re-seller or travel agent between you and us.
• The "must-see" sights are featured, plus a few "secret" ones.
• Choice of various tours/excursions in addition to the most popular ones described on the Sicily tours page.
• Exceptional tour leaders and guides make your experience special.
• Good hotels and restaurants are selected.
• Personalized services like airport pick-up or extra nights before/after your tour are available because our staff of Sicily travel specialists is based in Sicily.
• Tours are offered by one of the (very) few Sicily-based firms registered as both a travel agent and tour operator.

To take advantage of this offer, payment must be effected (and paid in full) with any American Express® Card at least 90 (ninety) days before the start date of the tour. While prices are given in euros, they are easily converted. This offer is available exclusively through us and is not resold by any other vendors or travel agents.
TO CONTACT US... to reserve this special offer
Reservation and contact information (including our actual office address in Palermo) follows. Here's our primary contact info:
info@sicily-concierge.com
TEL: +39 091 626 9685, FAX: +39 091 380 9900
From the United States or Canada you may also contact us by Skype at 312-239-0420 or 718-473-0803.
Please remember that there's a six-hour time difference between Central European Time here in Italy and (for example) North American Eastern Time in Toronto and New York. Or... you can pay online with your American Express Card (under "Notes" please indicate the tour, start date and number of participants).
ABOUT US: Chat & Tour (which does business under the trade names Sicily Concierge and Tradizione Turismo and markets travel services through Best of Sicily) is a licensed tour operator and travel agent located at Via Generale Sirtori 25, Palermo, Italy, a member of the IATA and ASTA. Service shall be governed by the laws of the Italian Republic and the European Union. We've been in business for over ten years, and our personnel have over twenty years' experience in this field. Basic services are insured in compliance with Italian law. Certain fees indicated (i.e. costs cited which are outside the actual service price), particularly admission fees at archeological sites, are understood to be beyond the tour operator agency's control and therefore subject to change without notice.
MORE ABOUT US: Tradizione Turismo by Chat & Tour, Via Generale Sirtori 25, 90145 - Palermo, Italy. Full Travel Agency Licence Number: 996/VII/Tur-Sicily • IATA Tids 96 27583 0 • VAT (Partita IVA): IT04943140824 • ASTA Member Number: 90016637.
Conditions and Terms for this Offer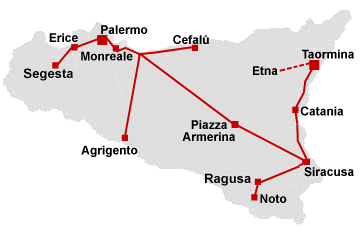 This special offer through American Express Selects® reflects a discount of the regular price of the tour and is valid with reservations effected through December 2013, available only when specifically requested at the time of your reservation. This discount is not available in conjunction with any other discount or special price. To purchase this tour at this price through this program, payment must be made with any American Express® Card and if bought for more than one person ("tour participant") traveling on a tour purchased in this way, at least one of the tour participants must be the American Express® Cardholder paying for charging that tour to the Card.
Please note that this special price is reserved to individual Cardholders (as tour participants) purchasing this tour directly through us with the American Express® Card according to the conditions set forth herein (on this page); it is not applicable to the same tour if purchased through a travel agent/consultant or other representative/vendor, even if that agent wishes to charge it on behalf of his/her client, to himself (or his company) or to a third party using a corporate Card® issued by American Express. This tour is sold (by us) directly to Cardholders and not through travel agents.
Client will be advised of specific hotels to be used in his/her tour 20 (twenty) days before the tour's start date, and selections are indicated in the full Summary describing each tour. (Hotels may be viewed through the Virtual Visit link under Hotels in the left column on our general tours page.) Payment must be effected with any American Express® Card. Prices are indicated in euros and valid through 31 December 2013. In the event of currency conversion to euros, the conversion rate shall be that of the day of payment; in the event of several payments for a single service the conversion rate may vary slightly based on the day's current exchange rate. All services are to be prepaid at least ninety (90) days prior to the beginning of the tour ("start date" herein also referred to as the "departure"). In the event of cancellation by the client, the following portion of the total tour price will be claimed by the agency: €100.00 fixed fee 60+ days prior to departure, 25% 45-59 days before departure, 50% 15-44 days before departure, 80% 8-14 days before departure, 100% within 7 (seven) days of departure. At its discretion, the tour operator agency may waive such claims.
Under normal circumstances, any refund due the client will be processed as a credit to the same American Express® Card used to effect payment(s) initially.
Service shall be governed by the laws of the Italian Republic and the European Union. Local laws may also apply for any tour purchased through a travel agent outside Italy. It is the responsibility of each participant to be in possession of the necessary travel document, such as a valid passport. Basic services are insured in compliance with Italian law. Certain fees indicated (i.e. costs cited which are outside the actual tour price), particularly admission fees at archeological sites, are understood to be beyond the tour operator agency's control and therefore subject to change without notice.
Hotel ratings are those established by the Italian travel commission and may differ from those indicated in privately-published travel guide books or websites. Tours begin in Palermo or Taormina, as indicated, on the dates specified. Unless the tour is purchased by a travel agent representing us, billing is processed through the tour operator, based here in Palermo, Italy (i.e. Chat & Tour's Tradizione Turismo®). In the event that the tour operator agency effects cancellation of a tour at any time prior to departure, its sole responsibility and liability is limited to refunding the client the amount it has received in payment for the tour up to that date. The tour operator reserves the right to cancel or reschedule any tour departure in accordance with operating requirements or circumstances beyond its control (i.e. force majeure).
© 2013 Chat & Tour, Palermo, Italy.

Print this page